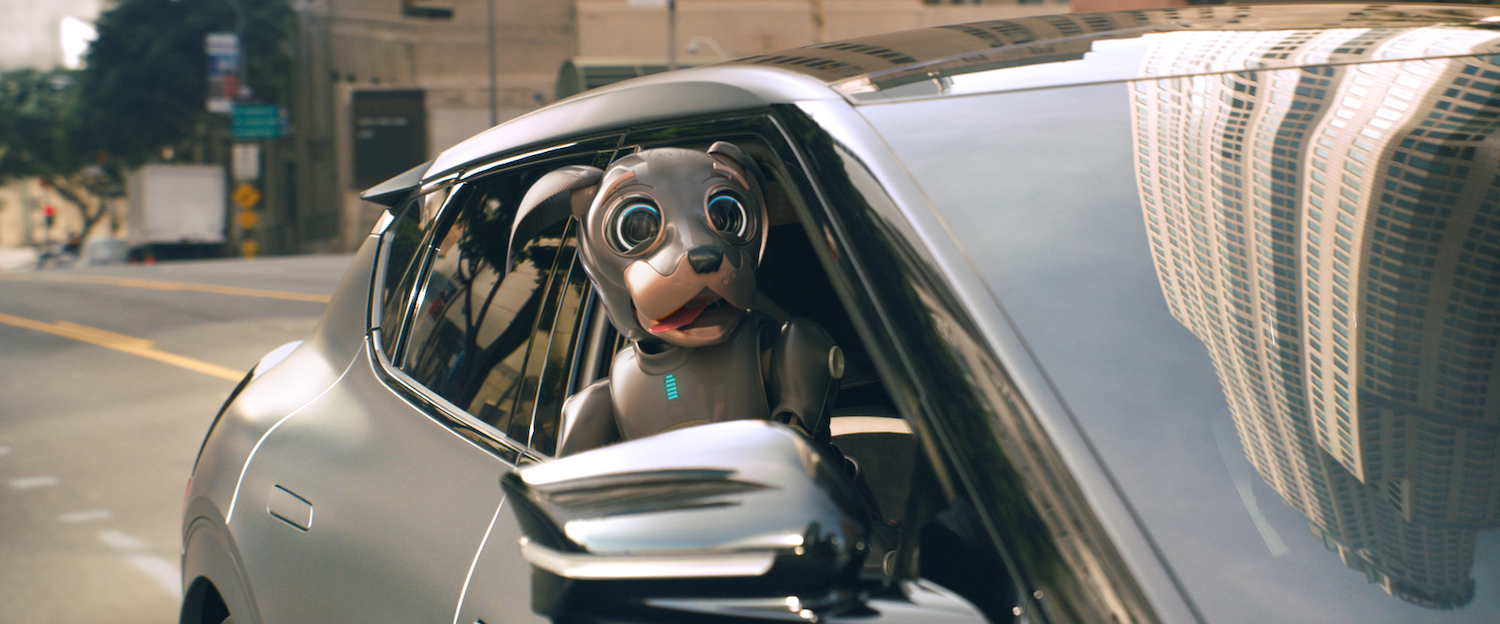 Robo Dog, the wide-eyed, adorable, electronic-charged, robotic pup longingly stares outside the showroom window of an innocuous electronics store.  As the world passes by in front of Robo Dog, loneliness ensues as Robo Dog sees a real dog joyfully play with its owner. Suddenly, Robo Dog's bright eyes widen and tail wags at the sight of something familiar. And in that one electrified moment, Robo Dog charges out of the store in heart-pumping pursuit of what could possibly be this endearing pup's forever home.  
Created by David&Goliath, this aspirational 60-second Super Bowl spot, which debuted Thursday, February 3, follows Robo Dog as it escapes the stark retail store and begins an epic chase around a buzzing city in search of the all-electric Kia EV6 and its owner. From crowded streets to a glass elevator to roof tops, Robo Dog relentlessly tracks the elusive EV6 as Bonnie Tyler's iconic "Total Eclipse of the Heart" swells in the background, providing the perfect union of emotion and humor. You can't help but root for this lovable pup as it makes a leap of faith toward the EV6 when – the battery drains and Robo Dog shuts down. Thanks to the  innovative onboard charger of the EV6, the owner is able to quickly power up the pup and as they lock eyes, they fall for each other, and drive off to live a fully charged life. 
"When I think about what it means to live a fully charged life, it's about not only doing your part to protect the environment by owning an electric vehicle, it also means to go all in with the journey," said David Angelo, founder and creative chairman, David&Goliath. "Robo Dog is the personification of that charge within us all, one that inspires us to dream big and never settle. It's the truth behind this ad for Super Bowl and the truth of Kia's brand." 
"The EV6 marks the beginning of Kia as a sustainable mobility solutions provider and is the next step in our shift to electrification," said Russell Wager, vice president, marketing, Kia America. "To introduce over 100 million viewers to the Kia EV6, we wanted to juxtapose the future with the emotions we all know and understand today – the love that can be shared between a human and an animal." 
The spot is part of an integrated campaign that includes a partnership between Kia and the Petfinder Foundation designed to shine a spotlight on shelter animals seeking adoption. It's the latest initiative under Kia's celebrated Accelerate The Good Program, and includes the brand's first-ever immersive augmented reality experience to raise awareness and help shelter animals find their forever homes. 
"At Kia, we continue to give back to the communities in which we work and live," continued Wager. "We looked at issues that needed attention and found that during the pandemic, many animals were adopted only to sadly be returned later, so we wanted to help." 
ROBO DOGMENTED REALITY
While Kia's Robo Dog found its forever home, there are countless real shelter dogs who are not as lucky. Especially in the wake of the pandemic where many dogs were adopted, only to be returned to shelters. 
Going live Wednesday, February 9, Kia will launch its "Robo Dogmented Reality" mobile web experience which allows animal lovers to simply scan a QR Code to bring Kia's Robo Dog into their own home through any mobile device. This innovative experience virtualizes pet adoption instantly, and entices users to consider adopting an animal in need, in their local communities.
TIKTOK'S ROBO DOG "TURN AROUND" DANCE
As part of the fully integrated campaign, on Friday, February 11, Kia will launch its first-ever TikTok integration, which will provide users a chance to dance with the cutest robotic dog ever, Robo Dog, to Bonnie Tyler's "Total Eclipse of the Heart." Every time users hear "turn around" Robo Dog turns and users can turn with the adorable pup. Kia partnered with five TikTok creators/influencers to help amplify the campaign and encourage pet adoption, while spreading the fun and love. Creators are @dougthepug, @besperon, @hi_im_chewie, @melissabecraft and @laurengottlieb. 
The campaign includes :15- and :30-second versions of the "Robo Dog" spot, as well as print, out-of-home and social media components. Extending beyond the Super Bowl, the campaign includes a series of spots starring Robo Dog and its owner, while showcasing the innovative features of the EV6. 
CREDITS
Agency: David&Goliath 
David Angelo Founder & Creative Chairman 
Yumi Prentice President 
Laura Forman Chief Strategy Officer 
Ben Purcell Chief Creative Officer 
Frauke Tiemann Executive Creative Director/Art Director 
Mark Koelfgen Executive Creative Director/Copywriter 
Mark Monteiro Executive Creative Director
Courtney Pulver Group Creative Director/Copywriter 
Robert Casillas Group Creative Director/Art Director 
Bennett Austin Creative Director/Art Director 
Nick Micale Creative Director/Copywriter 
Paul Albanese Managing Director, Broadcast Production 
Peter Bassett Managing Director, Integrated Production & Technology Services 
Christopher Coleman Executive Producer 
Juliet Diamond Executive Producer
Lisa Tanner Managing Director 
Allison Draskovich Group Account Director 
Shay Davis Senior Business Affairs Manager 
Sheila Barrand Business Affairs Manager 
Allan de Leon Digital Executive Producer 
Allison Minton Digital Producer 
Abigail Grinberg Associate Digital Producer 
Meagan Steinkamp Senior Digital Designer 
Evon Forbes Digital Designer 
Jay Mattingly Account Director 
Kylie Harmon Management Supervisor 
Aurelia Fulginiti Account Supervisor  
Jen James Account Executive 
Jillian Littleton Account Executive 
Maddie Webster Assistant Account Executive 
Mark McNaul Product Information Manager   
Bruno Cunha Group Strategy Director  
Natalie Gomez Associate Communications Planning Director 
Jasmine Spraglin Senior Creatist 
Beka Tesfaye Strategist 
Genie Lara Associate Director of Project Management 
Mike Antonellis Senior Project Manager 
Cara Nieto Executive Art Producer 
Jenny Wu Executive Print Producer 
Elisa Atwood Senior Print Producer 
Lisa Stevens Senior Print Producer 
 
Production Company: Biscuit Filmworks 
Director: Noam Murro 
Partner / Managing Director: Shawn Lacy 
Executive Producer: Andrew Travelstead  
Producer: Jason Groves 
Head of Production: Sean Moody 
Director of Photography: Eric Schmidt 
Production Designer: Brock Houghton 
VFX Company: Parliament 
Editorial Company: Spinach 
Managing Director:, Adam Bright 
Executive Producer:, Jonathan Carpio 
Producer:, Nicole Haws 
Editor (Robo Dog):, Damion Clayton (Courtesy of RPS) 
Assistant Editor (Robo Dog):, Michael Shugarman (Courtesy of RPS) 
Color Studio: Company 3 
Colorist: Jill Bogdanowicz 
Color Producer: Matt Moran 
Executive Producer: Ashley McKim 
Augmented Reality: 14Four 
Jeff Oswalt - President 
Avery McKee - Producer 
Brandon DeLauney - Creative Director 
Madison Merica - Lead Designer 
Eric Narad - Director of 3D Animation 
Alex Michaluk - Senior Front End Developer / AR Lead 
Jared Darr - Front End Developer 
Coby Forrester - Front End Developer 
Steve Wanless - Technical Strategy Director 
Augmented Reality SDK: 8th Wall 
 
Audio Services: Margarita Mix Santa Monica  
Audio Mixer/Sound Designer: Nathan Dubin 
Executive Producer: Whitney Morris  
Executive Producer: Paula Arnett  
Operations Manager: Brian Frank 
Assistant Engineer: Sean Melia 
Assistant Engineer: Mike Murzyn 
Assistant Engineer: Zach Olson 
Licensed Music (Robo Dog):  
Song – "Total Eclipse of the Heart"  
Written by - Jim Steinman 
Published by – Edward B. Marks Music Company (BMI), Lost Boys Music (BMI)  
Licensed by – Round Hill Carlin, LLC   
Performed by -  Bonnie Tyler 
Courtesy of -  Sony Music Entertainment 
  
Music Editor/Creative Director: Rory Doggett // Model Citizen Creative