In 2022, automotive giant BMW Group has forged a global partnership with Emirates Global Aluminium, the UAE's largest industrial company outside the oil and gas sector, to be the first customer for its new CelestiAL aluminum. The first of its kind, this aluminum is locally produced using solar power generated at the Mohammed Bin Rashid Al Maktoum Solar Park. The 'Forwardism' film premiered during December 2022 at private screenings across the Middle East, attended by BMW's VIP clientele and key stakeholders.
Serviceplan Middle East worked closely with BMW during a 6-month period to bring the creative idea for the 'Forwardism' campaign to life.
Serviceplan Middle East Creative Director André Couto commented:
"It's not every day that we have the chance to create a film that breaks the conventional imagery of automotive ads. Instead of talking about horsepower, engines and driving technologies, we chose to highlight the genesis of the car and its materials - it's a matter of great prestige that BMW Group uses aluminium that is sourced here in the Middle East and produced using solar power. It was this historic partnership that inspired us to create this film and tell this story."
In an electrified vehicle, CO2 emissions from the use phase are much lower, but producing battery cells or aluminium is extremely energy-intensive. The BMW Group not only wants to stop this trend, but also reverse it – and even lower CO2 emissions per vehicle by 20% from 2019 levels.
BMW Group are targeting a 5% reduction in global CO2 use-phase emissions by 2030 and 40% reduction in CO2 emissions during the entire life cycle of a vehicle. Rethinking how they source and use energy is crucial to achieve such ambitious targets. Since 2019, 100 percent of electricity used for BMW Group's Plants worldwide has been from renewable energy sources. This also includes the ground-breaking partnership with Emirates Global Aluminium (EGA), who provided BMW with aluminium using solar power. In 2021, 100 percent of solar aluminium produced by EGA was sourced exclusively to BMW Group.
Aluminum is lightweight, strong and infinitely recyclable, and that is why it has an important role to play in developing a more sustainable society and making modern life possible. One key example of this is by improving the efficiency of vehicles through reducing their weight. But it also matters how sustainably aluminum is made. Solar aluminum is a step forward — it uses a natural and abundant source of energy in the desert environment to make a metal that is vital to our planet's future.
This milestone move is expected to reduce BMW Group's carbon dioxide emissions by approximately 2.5 million tonnes over a 10-year period.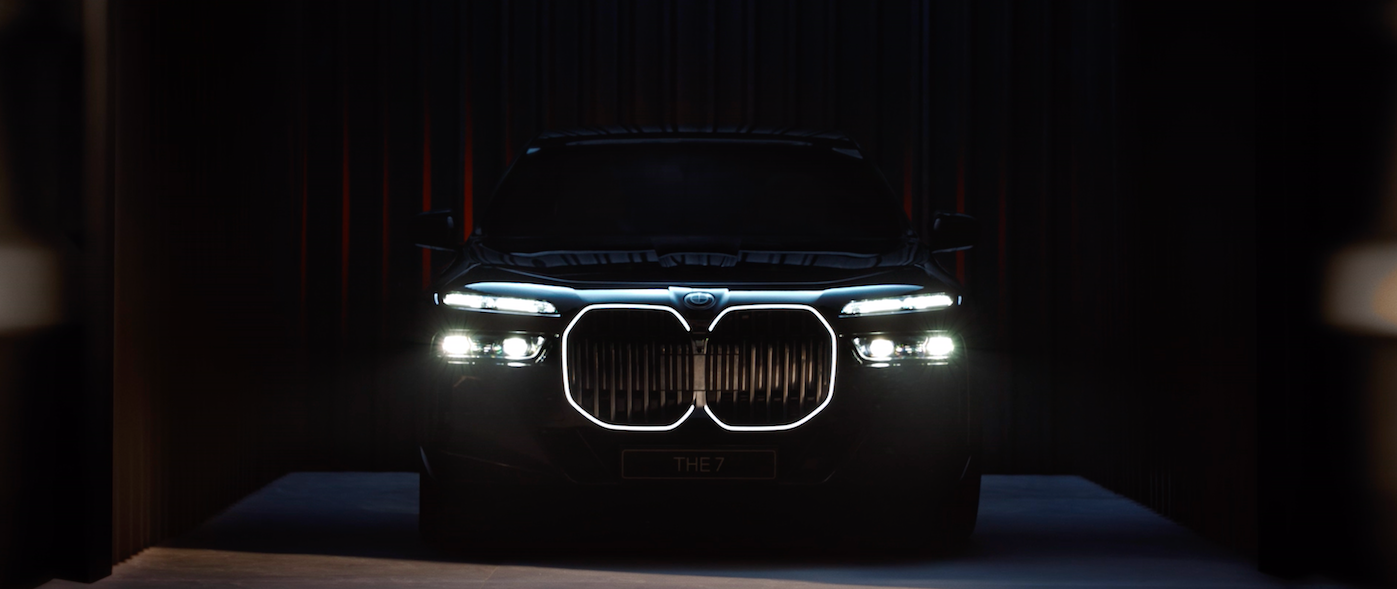 The new 7 signals a new era of automotive excellence for a more environmentally-aware era. Made from aluminium sustainably sourced from the Middle East, the BMW 7 Series Sedan is inspired by a vision for the future that brings together pure elegance and multisensory entertainment, resulting in an absolute premium driving experience incorporating;
Welcoming scenario "Great Entrance Moments"
Crystal headlights and illuminated BMW "Iconic Glow" kidney grille
Luxurious lounge atmosphere in the interior with individual My Modes
Cinema experience on 31.3" Theatre Screen in the rear passenger compartment