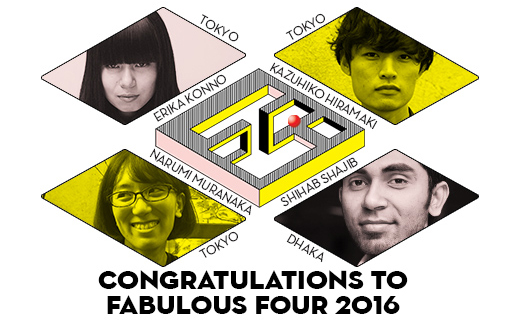 BANGKOK: ADFEST is delighted to congratulate this year's 'Fabulous Four' directors, with three of these aspiring directors based in Tokyo, Japan, and another based in Dhaka, Bangladesh.
Congratulations to:
• Erika Konno, Director, TYO Camp KAZ, Tokyo
• Kazuhiko Hiramaki, Director, Geek Pictures Inc., Tokyo
• Narumi Muranaka, Director, TYO Camp KAZ, Tokyo
• Shihab Shajib, Assistant Director of Audio Visual, ZANALA Bangladesh Limited, Dhaka
Erika, Kazuhiko, Narumi and Shihab now have just weeks to cast, direct, shoot and edit their film scripts in time for their premiere at ADFEST 2016.
Erika's short film is called 'Brushing Up'; Kazuhiko's film is 'BPM'; Narumi's film is 'Beautiful Lie'; and Shihab's film is 'ERROR'. All four of these short films will be presented in a session moderated by Sihabutr Xoomsai, director at Triton Films, Bangkok, who is Jury President of the Film Craft Lotus and New Director Lotus Jury responsible for voting on this year's script submissions.
"There were some wonderful scripts entered into Fab Four this year, but the four that scored the highest votes from our jury stood out because they combined a great idea with the elements of filmmaking: style, tone and character," says Xoomsai.
"When we voted on the scripts, we actually had no clue who wrote them or where these directors are located. So it's exciting to see that three directors were selected from Japan this year, and one from Bangladesh – both countries that have very vibrant film industries."
Every year, ADFEST invites new directors and assistant directors to write a five-minute short film script inspired by the festival's theme, which this year is "Creative Intelligence". Scripts were submitted from Brisbane, Dhaka, Fukuoka, Kuala Lumpur, Mumbai, Shanghai, Sydney and Tokyo with a total of 37 scripts entered, up from 33 last year.
"Being part of Fab Four can help the careers of new directors enormously. It is a hands-on and challenging experience. By giving the Fabulous Four only a couple of months to write, direct and produce a short film is definitely throwing them in the deep end, but the skills they learn and the exposure they get from presenting their short films live at ADFEST is invaluable," says Vinit Suraphongchai, Chairman of ADFEST.
Don't miss the premiere of their short films at the 'The Fabulous Four 2016' session on Thursday 17th March, 11:30am.