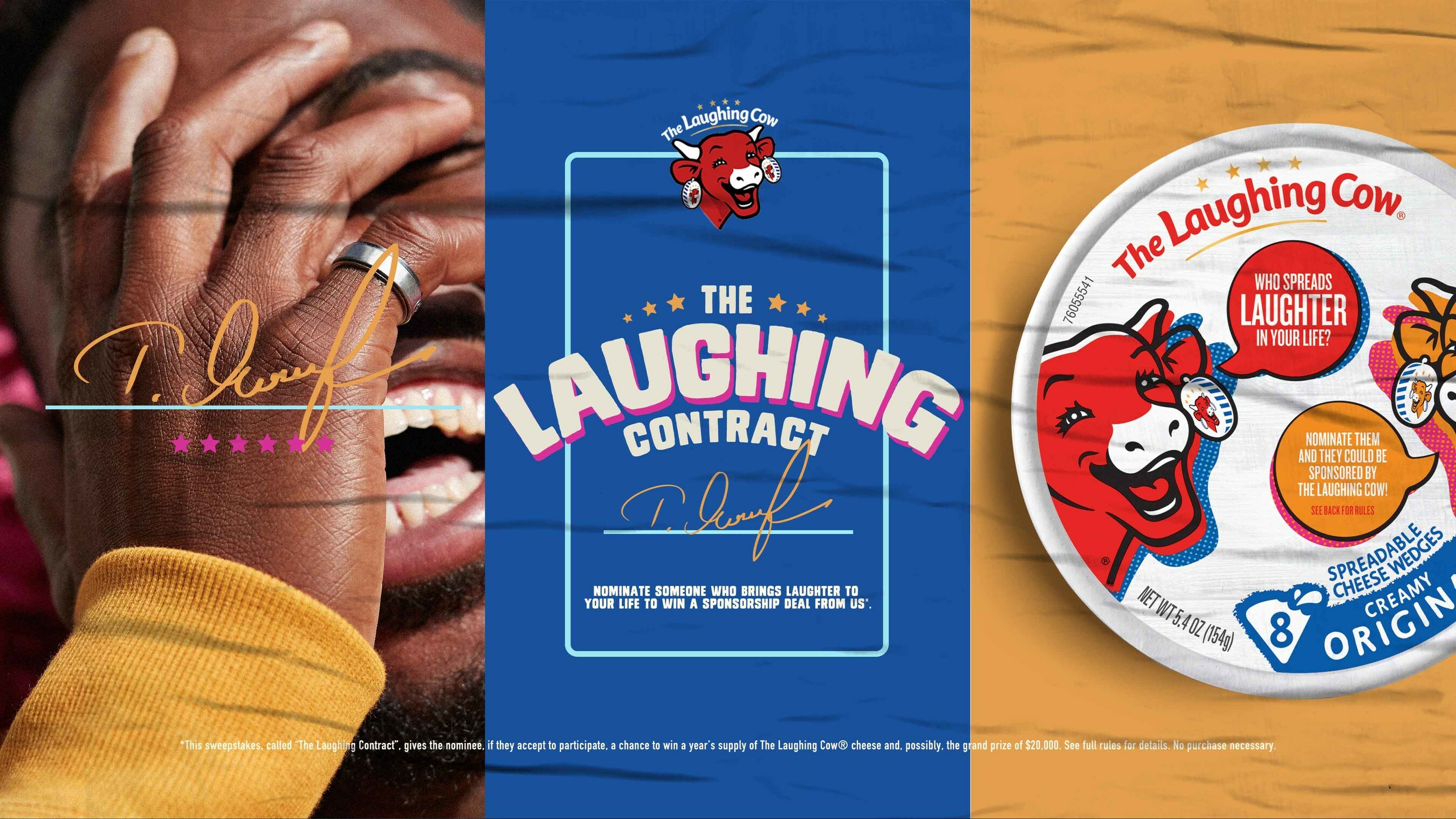 This fall, The Laughing Cow®, makers of the spreadable and creamy cheese wedges, is bringing consumers a fresh take on their iconic branding with new, colorful, limited-edition packaging inspired by recognizable pop culture designs. The new packaging will also feature a unique QR code for a sweepstakes to nominate people in their lives who choose laughter and spread joy to win 'The Laughing Contract,' sponsored by The Laughing Cow. 
Whether it's parents, best friends, or coworkers, The Laughing Contract is giving consumers the opportunity to celebrate the funniest people in their lives. 1,000 sweepstakes winners will be awarded a year's worth of The Laughing Cow's deliciously creamy spreadable cheese, and one lucky grand prize winner will receive a cash prize of $20,000 in addition to a year's worth of The Laughing Cow cheese.
"The Laughing Cow has been inspiring people to choose laughter for more than 100 years, which is why we're thrilled to take a moment to recognize the people in our lives who make us laugh the most," said Zach Fatla, Brand Director of The Laughing Cow. "We're excited to roll out this newly imagined packaging, in addition to 'The Laughing Contract,' to encourage cheese lovers across the country to make space for laughter in their lives and laugh a little more, every day."
Starting today – October 31, The Laughing Cow fans can scan the QR code on the limited-edition packaging, or visit thelaughingcontract.com to nominate the aspiring comedians in their lives. No purchase necessary. For additional terms and sweepstakes conditions visit thelaughingcontract.com.
The Laughing Cow Creamy Cheese Wedges limited-edition packaging can be found on the Creamy Original variety at retailers nationwide now through the end of October for an SRP of $3.79-$4.99 for an 8-wedge round. To find The Laughing Cow near you, visit https://www.thelaughingcow.com/product-locator/.
Join the Conversation:
Share the funniest person in your life with us on X (Twitter) @TheLaughingCow, TikTok @TheLaughingCowUS, or on Facebook, Instagram @TheLaughingCowUSA using #LaughingContract. Visit thelaughingcow.com for more information on the new product innovations and snack ideas.
*This sweepstakes, called "The Laughing Contract", gives the nominee, if they accept to participate, a chance to win a year's supply of The Laughing Cow cheese and, possibly, the grand prize of $20,000. See full rules for details. No purchase necessary. A year's supply constitutes (1) 8-pack round box a month. Winners will receive a 3-month physical supply of product + 9 coupons for a free round box.